Sharon Jansma ~ The Professional's Professional
---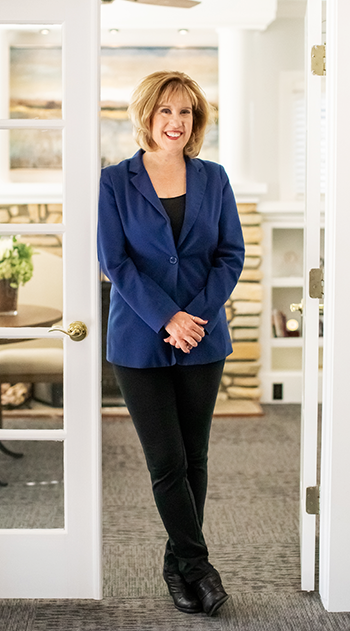 Sharon Jansma believes that customer service should be a top priority. This is evident as she welcomes you into her new office at 1320 W. Center Street. The "new old house", as she describes it, has been refurbished with light colors, clean lines, and warm touches like built-in bookshelves and a fireplace, that add up to a relaxed and at home atmosphere. This is exactly how Sharon wants her clients to feel as she gets to know and help them structure financial goals and investments for their future.
Sharon didn't start out in the insurance and financial industry. After majoring in food science at Cal Poly SLO, she worked in the lab at food processing company Real Fresh in Visalia. When she became pregnant with her first child, Sharon decided she wanted to start a career that would allow her more control over her time so that she could be available to her family first and foremost. Her brother, Troy, connected her for an interview with the Farmers Insurance district manager. Shortly after that meeting, Sharon started working in the Farmers Insurance program; pregnant and still working her full-time job, she knocked on doors selling renters and life insurance.
After the baby was born (and with the support of her husband, Mike), she returned to work as a full-time independent agent with Farmers Insurance. While many people would treat this as strictly a sales job, Sharon put her focus on unparalleled customer service and building relationships with her clients, strategically adding people to her team that would support her philosophy and efforts.
Sharon is lauded by industry colleagues for her professionalism and reputation for exemplary service, Troy has complemented her "To be successful it's about balance and lifestyle…she is a well-rounded leader, and she just happens to be a woman who is very successful. She does so much for the community; she's someone who is a real rock star." Sharon has indeed been extremely involved in the community, evidenced by her longtime membership and leadership roles in Visalia First Church, Visalia Breakfast Rotary, the Executives' Association of Tulare County, and her active support of local community schools.
So what prompted her to branch out from their successful office on Walnut Street? "After 30 years of loving what I was doing, I was ready to make a change. This new chapter is very exciting - I'm learning so much as I adjust to a different pace, where I can really spend time planning and working with customers and their goals, focusing on what's important to them. I love our new business neighbors and being able to open the windows; it's so nice to be able to feel the fresh air and see and hear the sights and sounds of Visalia just outside. I love coming to work!" 919575-102019
---